Greenville Industrial Rubber & Gasket offers you the finest in precision shape cutting with ultra-high-pressure waterjet fabrication. The waterjet machining process provides huge benefits that directly create higher quality parts with minimal waste!
WE CAN IMPORT YOUR DRAWINGS, CREATE NEW CAD FILES FROM SKETCHES OR SAMPLES, OR WORK WITH YOU TO CREATE THE PERFECT PART.

UNMATCHED DIVERSITY! WE CAN CUT 1/16" THICK RUBBER AND SWITCH TO 4" THICK STEEL WITH NO CHANGE IN TOOLING.

REPEATABILITY & FLEXIBILITY: GET THE SAME SHAPE EVERY TIME YOU ORDER, OR MAKE ADJUSTMENTS AS YOU GO.

MINIMIZED MATERIAL WASTE TRANSLATES TO LOWER COST!

ADJUST EDGE QUALITY AS PER YOUR REQUIREMENTS.

NO HEAT-AFFECTED ZONES.

MINIMAL KERF

EXCELLENT TOLERANCES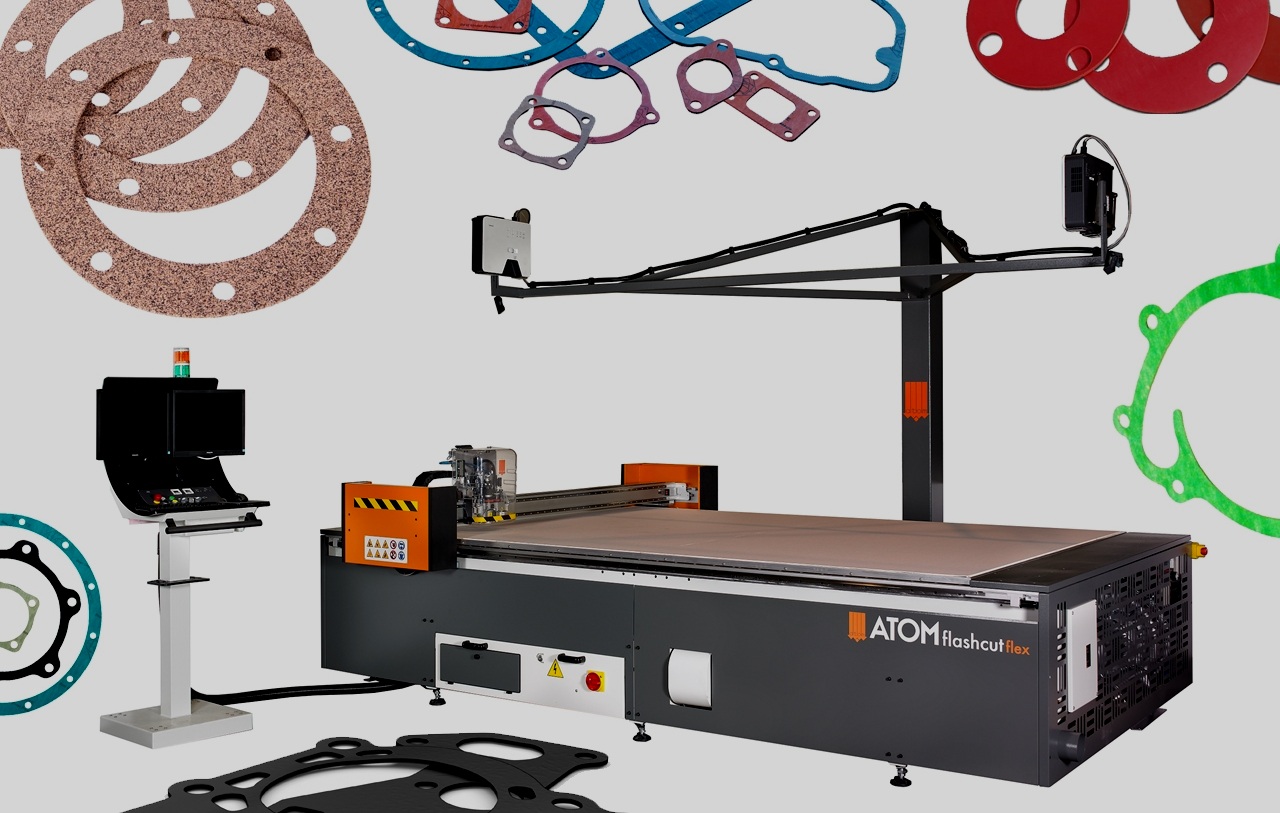 For soft materials, no equipment can precisely cut faster than the Atom Flash Cutter. !
WE CAN IMPORT YOUR DRAWINGS, CREATE NEW CAD FILES FROM SKETCHES OR SAMPLES, OR WORK WITH YOU TO CREATE THE PERFECT PART.

UNMATCHED SPEED! GASKETS CUT AT A BREAKNECK PACE!

REPEATABILITY & FLEXIBILITY: GET THE SAME SHAPE EVERY TIME YOU ORDER, OR MAKE ADJUSTMENTS AS YOU GO.

MINIMIZED MATERIAL WASTE TRANSLATES TO LOWER COST!

WATERJET AND FLASH CUTTER DRAWINGS INTERCHANGE!

DIELESS CUTTING… NO TOOLING CHARGES.

EXCELLENT TOLERANCES